Welcome to the sport of pigeon racing
This page is for beginners, novices, experienced pigeon fanciers and people that just want to find out a bit more about the sport of pigeon racing. We get asked many questions from many different people via email, phone and social media and the majority of the time they are similar questions with very similar answers so here we hope to provide as much information as possible to answer as many questions as possible. If you can't find the answer to your question then please don't hesitate to contact us and we can help you out and maybe add your contribution to this page.
The job of a pigeon fancier is not to teach a pigeon how to come home as a homing/racing pigeon has this ability bred in. It is the job of the pigeon fancier to be a coach, to educate, exercise and train the pigeons to get them fit and in the best condition for racing. Any pigeon will come home from a race but there is a big difference between homing and racing and that's where the pigeon fancier comes in.
Found a lost racing/homing pigeon?
If you have found a racing/homing pigeon and would like to reunite it back to its owner please visit here RPRA stray reporting
How is a homing/racing pigeon different to other pigeons?
There are a number of types of "pigeon" in the UK and I would say the most common are the wood pigeon, collar dove and feral pigeon.
A wood pigeon:
A wood pigeon is much larger than a racing/homing pigeon and as you can see their markings are quite different, a much darker grey and with a white patch at the base of the neck
Collar dove:
A collar dove is smaller than a racing/homing pigeon and again their colours are different too, they are a beige type colour with a distinctive black mark at the back of the neck which is where their name comes from
Feral pigeon: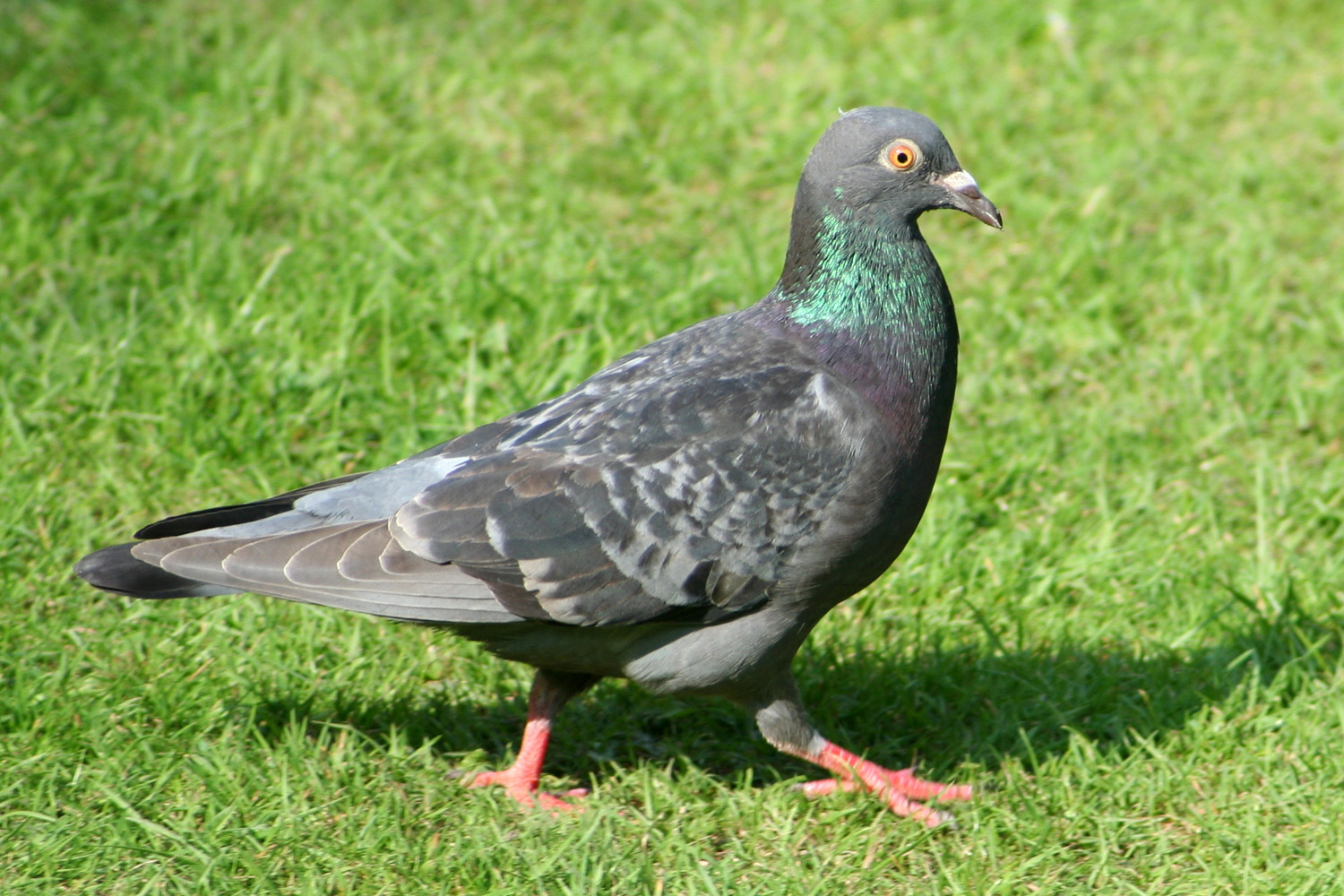 These are the most like racing/homing pigeons and there is nothing to the untrained eye to tell them apart but as pigeon fanciers these stick out like a sore thumb. Few racing/homing pigeons turn feral as they are unable to fend for themselves, ask youself, how many pigeons walking around a town or city have you seen wearing a ring/leg band? I would imagine if I said 1 in 10 that would be an over estimate by a long way.
Racing/homing pigeon:
These are the athelets of the sky, pigeon fanciers spend their spare time caring for these birds, giving them the best accommodation, food and water to try and get the best out of them when they are sent to a race. One question we get asked frequently is "How much does a pigeon cost?" this is the current most expensive, read the article here
Want to start up?
First off if you live on the UK mainland or Northern Ireland then get your free starters pack from the Royal Pigeon Racing Association (RPRA) click on the link to apply RPRA Geting Started. This gives you information on getting started, where your local clubs are and regestering with the RPRA, which is very cheap. For Scotland here is a link to the Scottish Homing Union. This is the link for the Irish Homing Union. This is the link for the Welsh Homing Union. If you are in the north east of England there is an organisation there North of England Homing Union and one for the north west of England is North West Homing Union
Where to keep your pigeons? You can splash out with the many companies that offer to build you a loft and erect it for you. You can select from a humble wooden loft with a flat felt roof or you can opt for a delux loft painted with tiled pitched roof and all kitted out inside with everything you should want even having automatic watering and cleaning systems if that is the sort of thing you want. The better the loft doesn't mean the better your results will be! On the other hand if you want to save a few bob you can (if you have one spare) convert a garden shed, which we have on many occasions and have had great sucess racing to these.
Number of pigeons/size of sections. I think to start off with you will need a section to hold 30 – 40 young birds, our section for this amount of young birds is 10 feet x 10 feet (3m x 3m) this is pleanty big enough and this could be made into 8 feet x 10 feet with a 2 foot corridoor. Then you will need an old bird section and I would suggest this is big enough to house at least 6 nest boxes (enough for 6 pairs of old birds to race). If this section was made to be 4 feet (1.2m) wide then you would be able to have 2 foot (600mm) wide nest boxes
Can you race pigeons without a loft? OLRs
The simple answer is yes.
If you haven't the time, space, money or ability to invest in racing pigeons yourself but you would like to take part in the sport, then this is still possible. You can enter One Loft Races (OLR). There are plenty to choose from here in the UK and aboroad. A couple of examples are; RPRA OLR, Derby Arona this is also a good place to go to look at the many more OLR oneloftracing.com
We supply birds for people who are in this situation. It's quite simple really, all you have to do is get the entry forms, for example from the RPRA, fill in your details and send the forms over to us. Then when the birds are ready we fill in the rest of the form and send it with the birds to the RPRA OLR.
With buying the birds from us it is the same as if you were buying them for yourself. Choose what birds you would like, supply us with a 25% deposit to secure your order, then when the birds are ready to go you can make the final payment and we will send the birds off to the OLR. We will send you a copy of the pedigrees of the birds and hopefully take pictures of the birds and send them to you as well so you can see what you have bought. You can then see when the birds are first listed on the OLR website and track their progress from there. If all goes ok you will have some birds left after the final race that will be sold off, at auction, which you will receive a portion of the sale price and any winnings that you may have picked up along the way.
Purchase of pigeons
This is relevant to babies for racing, either singly or in racing kits.
Most of the couriers, if not all, in the UK collect on a Wednesday and deliver on Thursday. When you purchase babies from us they are usually either straight from the nest or up to 28 days old when they are sent out. We feed them on a standard breeding mix (Countrywide Super Breeder) whilst with their parents and when they are weaned. We believe it is better for the pigeons to stay on the same food here rather than we change the food when we wean them, then they are moved to a new home and given different feed there. We try to keep the stress to a minimum.
Many people ask us when to let the babies out for the first time, some people like to wait until they are older but our recommendation is at the weekend after receiving them, there are a couple of reasons for this,
The birds have had enough time to get into your feeding routiene
You are probably going to have more time at the weekend than any other day
Also we suggest you wait until later in the day, anywhere between 4 – 6 pm, as they will be hungry by then and not wanting to stay out too long as it is getting towards them resting up for the night. The first time you let them out ideally they just want to wander, out have a peck around and stretch of the wings and then back in again somewhere between 10 – 20 mins is enough, you don't really want them getting up and seperated from the bunch as they will be nervous on their own and it may take some time to get tthem in. Once they have been out a couple of times and you have called them in they will soon get the idea that they are getting fed when you call them in and all should be fine from then on
Another good source of information is a Facebook group I have created for New and Novice pigeon fanciers, click here if you'd like to take a look and join up. There are many topics and questions that have been asked and answered by novices and experianced fanciers alike.
Background information on the families we house
Leen Boers
Leen Boers are bred especially for sprint up to 250/300 miles but with a few exceptions winning through to 600 miles.
We house probably the best stud of the original Leen Boers, (1981/82) in the world!
We first introduced this family in 1982, the year after the original 12 pairs were introduced into the UK (we ended up, over the years, owning 8 pairs out of the 12), we haven't found anything to beat them but it's not past reputation we are living on. For example in 2013 they won 1st Open MNFC and an RPRA award and at the same time they won 1st Open National in Malta and double 1st National Ace Pigeon. Very few strains old or new achieve these results especially in the same year. We have reports of winners from 38 miles through to (this year, 2017) 455 miles, a nest pair won 1st Fed by over 120ypm from 41 miles and its nest brother this year (2017) won 1st Club 2nd Combine 455 miles, 400+ mile wins are rare. The 2 x 1st National wins were at 292 miles and 336 miles. We recommend up to 300 miles with one line (Craftsman) through to 360 miles. A grandson of Craftsman (Dot Head) that we raced won 14 individual 1sts up to 184 miles in 4 years, we moved before he could do his 5th year of racing.
The Leen Boers cross well with a number of families especially as we have kept them pure, unlike a lot of other people who say they have Leen Boers but they aren't pure or original. The MNFC win was 100% pure Tumley Leen Boers the Malta one was 75% with 25% De Klak. The original Planet Brothers Van Loons had Leen Boers crossed into them.
The Leen Boers have been producing winners from the day we first introduced them to date, with many other top wins including 1st National, to those mentions above. These bloodlines are becoming very scarce but they still must perform to earn a perch in our stock loft. They do for us and many others with pigeons winning races being clocked at over 75mph. We have approximately 54 pairs of Leen Boers at stock.
Click here to see a family tree that Leen produced himself back in the 1990's. Click here to see our family tree that I made December 2012! Quite interesting to compare both!
Janssen/Van Loon
Janssens are a diverse pigeon which are mainly bred for middle distance racing but with a strain that has been established so long these pigeons will win from 60 miles through to 600 miles if you get the right lines.
We have a superb collection of Janssens which have bred amongst others 1st NIPA 27,000+ birds, 4th & 25th Scottish National, 1st UK 3rd overall in the 13th Sun City Million Dollar Hot Spot race, 2nd Open National Flying Club Tarbes 2008! They have produced our most recent 1st Open National winner "Alexander the Great" 1st Open National Flying Club Ancennis
We have approximately 40 pairs of Janssens at stock. Once again this is a well established family with many lines being housed at Tumley Lofts Stud, Arendonk, Camphuis, Van Loon and Van Den Bosh. Some of our Janssen lines have been with us since the early 1970's. Winners at all levels of competition, the very best of these here close to the world wide champions, many thousands of pounds spent on obtaining these pigeons.
Van Geel/Wim Muller Aarden
Aardens are bred specifically for the distance and extreme distance with our Aardens winning at 600+ miles but these birds will win at the sprint if the conditions favour them.
We've had Aardens for nearly 20 years now and from the time we introduced them into the loft they have won at the distance but don't write them off over short distance if it's a tough one. I've just bought back one of our own birds (2004 bred) and she has won from 65 miles through to 617 miles flying into Scotland! Breeding the bird of the year in the Club and Federation. They have won at every level of competition including 1st Scottish National! Not much more you can ask of a strain! We only keep around 15 pairs increased to 20 pairs in 2009, so for these achievements to have come from such a small group of pigeons is outstanding.
If you need to fly the distance, then these are the birds with the endurance to do that. We have sons, daughters, brothers, sisters to many of the Europa Champions. These are kept as closely inbred to the top Federation, Combine and National winners and only birds on the day.
Dennis Ford
Dennis Ford (Blaenavon, Wales) is the man with the Midas touch.
There is one man that stands out head and shoulders above all others in Wales for his unique performances at national level and that is Dennis Ford of Blaenavon, Wales. His tally of national wins now stands at 13 and with almost as many 2nd National wins it is little wonder Dennis is regarded as the man with the "Midas Touch" as he has achieved this single handed over a ten-year period. Having said that the "Golden Years" in his unique series of national wins occurred between 2006 and 2012 when no less than 11 x 1st nationals were achieved flying the south route into Wales.
Dennis Ford was Welsh South Road national champion for four years running (2007-2010). My very first contact with Dennis was in 2006 when I travelled to see him as Welsh South Road national secretary and scribe after he won 2nd WSR National Alnwick. I remember travelling over the beautiful mountainous terrain from Brynmawr towards Blaenavon which brought back fond memories of my early surveying days when I worked for Glamorgan County Council and carried out site inspections in this area. When I arrived at Elgam Avenue, Blaenavon I was not to be disappointed as Dennis had converted an area of ground into what could only be described as a pigeon paradise with wonderful views and all "mod cons" that truly endeared you to the place. These included a television, microwave, refrigerator and telephone all surrounded by beautiful flower borders and well-kept lawns. Little did I realise at the time that over the next six years Dennis would achieve immortal fame for his magnificent, breathtaking performances flying at national level. After his retirement from "British Aerospace" he really became a professional pigeon flyer but he never neglected his club duties (he has been club secretary for 30 years until recently) or his family who have always supported his hobby.
The system
At the time of my visit (and I dont believe a lot has changed since) the birds were flown on the roundabout system. The boxes are opened for 30 minutes for the cocks and then have their hens for 2 or 3 minutes before basketing. Only cheap farm food is used and the birds are hopper fed peas and beans. However being a corn connoisseur of the past I knew there was more to it than that and Dennis confided in me that he does add half a cup of his special mix every mealtime. Although I did not ask him for the breakdown I could see two different types of maize as well as a range of seed mixtures. Johnson`s tonic is used once a week, as well as glucose and electrolytes.
The start
Dennis started flying with his father Tommy Ford in 1962 but after his father passed away in the early 1990s he started to compete under his own name in 1997. The very next year Dennis won a national from Messac in 1998. Then on the north road he won a 1st National from Crieff in 2002. The purple patch started in 2006 when he was 1st Chale YB National, followed the following year 2007 by two OB national wins from Picauville and Lessay. In 2008 Dennis once again astounded the Welsh fancy by yet again winning three Welsh nationals from Messac and Saintes OBs and from Picauville YBs. To put the icing on the cake, he also won 1st Open BICC National against all the odds and many thought this performance was the best in the UK that year. This was followed by 1st National Tours and 1st National Bergerac in 2009. Yet another WSR National was won in 2011 from Messac. Then to make it 13 national wins, he was 1st and 2nd Tours National 2012. What is truly remarkable is that this series of national wins covers the shortest from Chale (111 miles) and then every stage to the longest from Tarbes (608 miles). Winner of the 1st WSR National from Messac in 2011
The strain
The main families housed in the lofts are Lambert & Davies Grizzles, Janssens, Westcotts and Tuplin Barkers. Dennis also seems to have a knack of bringing out the best of birds presented to him, as for example chequer cock Champion Seren (Star in Welsh) Eleven bred by John Williams of Phillipstown which won 1st WSR National Bergerac 506 miles in 2009 and was also 3rd National Saintes in the same year winning the Gold Cup. The previous year Champion Seren Eleven was 2nd National Bergerac when there was only one bird clocked on the day into Wales.
Champion Seren Eleven was bred by John Williams and raced by Dennis Ford. The pigeon won 1st & 2nd National Bergerac (506 mls), 3rd National Saintes (431 mls) and the Gold Cup for best WSR National pigeon 2009. Success in the face of adversity Dennis is a quiet, modest, unassuming man who has been fighting cancer for the last nine years but this has not stopped him going to his loft each morning at 5 a.m. and he is indeed a true inspiration to all who know him.
Report by David John 28/03/2013

Dennis with his 2nd National Bordeaux winner in 2012, Dennis Two
Unfortunately Dennis Ford passed away later in 2013
Dai Evans
This repot was written by John David about the Littlehampton National in 2010.
"However the big performance of the race was put up by the consistent loft of David Evans of Gelligaer who had a race he will never forget by clocking eleven magnificent pigeons in eleven minutes, the first being the overall National winner (Little).
David is a true gentleman of the sport who lives and breathes pigeons. For sheer consistency over a forty year period he has few if any equals. He is also a man who always gives his very best to charities and his generosity is such that he will more than often give a pair when one would suffice.
David is without doubt one of the best young bird fliers in Wales and after being weaned the young birds are let out after the Widowhood cocks have taken their exercise from 7 until 8am and are not called in until 3.30pm.
In this way they soon become street wise and get very fit but are still given at least a dozen tosses in the few weeks prior to the first race and using this system David finds very few are lost. The young birds are given Junior O from Versela Laga which contains no maize but maize is added after the 100 mile stage.
They get as much as they want to eat but any surplus is removed at evening time. After racing starts David will train once or twice a week from Chepstow if he feels they need it. However once the old birds finish racing the YB`s are given their liberty from 6am until 3.30pm so need very little training. The first to be clocked from Littlehampton was a Pied cock of his old family at 2.48pm recording a velocity of 1169 ypm flying 131 miles with his second only 30 seconds later with another 3 clocked by 2.50 and ten by 2.59pm. David`s team were flown in the Maidstone National on the previous Monday when they were well placed in the top ten, so in effect flew 300 miles in five days in two separate races.
I was invited by the Editor of a well known year book to write about a fancier of my choice a few months ago. I chose David without hesitation for his sheer consistency in the sport and for the fact that he truly loves his pigeons and can get the very best out of them and I think my choice has now been well and truly justified!"
Dai and his granddaughter with Channel Queen after her 1st National Bordeaux win in 2012
Unfortunately Dave Evans had to give up his pigeons in September 2014 due to health reasons but in his last season of racing in 2012 he won in the Welsh South East National the Three Longest Old Bird Race Averages, All Old Bird Race Averages, Longest Old Bird & Young Bird Race Averages, All National Race Averages and he was runner up for the Gold Cup!!!
The birds we purchased from Dai Evans are 3 x 1st Open National Winners, 2 x 2nd Open National Winners and 5 x 3rd Open National winners, recording 7 x 1st Sections, 3 x 2nd Sections, 3 x 3rd Sections, 2 x 4th Sections and 5th Section. In all, the 13 birds that were raced out of 16 purchased scored well over 55 Open National positions!!! This family have won from 100 miles through to 603 miles a true All Round family, they win in all conditions and speeds, winning against over 14,000 pigeons and velocities in excess of 1800 ypm. They are responsible for hundreds of top National performances.
This is the feeding and watering regime that we use throughout the year on all our birds except the race birds, for these we use an adjusted system which you can find later on this page
Old Bird Racing:
There are a number of ways to race yearlings and old birds
Natural system, just as it sounds. Let the birds pair up and race them back to their mates, eggs, babies and that's it, although it's not as simple as that if you want to win consistently
Celibacys system, we have no experiance of using this system but here is a link to some information and I'll leave you to do your own research if you want to go down this route, The Celibacy System
Roundabout system, I intend to fly this system over the next few years but I am also trying it for the first time so in futre updates I envisage to pass on my learning and knowledge
Widowhood Racing System, we have used this system for many years and many people from around the world have used it with great success. Here is a guide to the system
Widowhood Cocks
You may want to take a look at the Widowhood system week planner before going any further, it is handy to print this out and keep in your loft.
You will have brought your cocks and hens into nesting condition, ready for pairing to your own satisfaction.
Look at your race program and find the date of me first race. Count back 12 weeks making it the nearest to a weekend or on a day that suits you best for pairing.
Put your pairs together. You will let them rear one round of youngsters. Take the youngsters away as soon as possible. Let the hens go down again on their second round of eggs, at ten day's take hens away letting the cocks sit until they leave their eggs.
Remove eggs and bowls. Clean nest box and' spray with disinfectant. Your cocks will sulk for a few days but by that first weekend they will start to Widowhood. I find that this period is a good opportunity to treat for Canker. Worms, etc, whatever you think necessary. Your feed over this period needs to have one third Barley add to your breeder mix:
On the first Saturday to follow you put your birds on the 'Tumley Lofts Stud Widowhood System" that you wish to race on. You may start with the Sprint System following through with the Middle Distance system. You are now at the stage of three weekends to your first race. This to me is as important as the last race. Why not catch the others napping?
Mock Race
On tile Friday night of the first full week on the "Tumley Lofts Stud Widowhood System" you prepare your cocks. As shown Basket your birds as if you were going to the Club. If you use a Widowhood basket. Leave the Widowhood cocks in there approx. ½ an hour before transferring them into crates or baskets, Put them in a safe place overnight. Place a drinker on the basket first thing Saturday morning. Remove the drinker and ask the wife or someone to take the birds for a short training toss, 10-20 miles. You will wait for your birds to arrive doing all that you would do as on a race day, except, of course, clocking In, Your birds and you are now ready for your first race the following weekend. Both you and them know what to do. I do not train my birds while they are racing If I wish to rest a bird I will still carry out the procedure as the Mock Race, either taking the birds down the road a few miles or even in the garden, after the first of the race birds arrive Always take advantage of late arrivals and toss the rested cock or cocks out as they arrive
Training of Widowhood Cocks
Old Cocks
Train your cocks while they are sitting their first round of eggs picking the best days possible and do not worry about long training tosses. You are only jogging their memory of the old birds, the fitness will come through from flying round the loft.
Yearling Cocks
Bring the Yearlings in when the hen has laid her first egg of her second round, putting them In With the old cocks. You will find that by waiting until the second round of eggs are laid they are not so excited. This will go nicely in with the old cocks, which will help them keep calm. Now after a few short training tosses you may increase the distance to say 30 miles, to install the ability to race home as Yearlings. You see why I do not train old cocks far, as its Just a waste of time and effort when you can do them altogether, yearlings and old birds.
Widowhood Hens
Preparing Your Widowhood Hens
We consider this is one of the most important areas to make your Widowhood cock win. It is not complicated to prepare your hens, but they must be right and receptive for the cocks to arrive even though they may not mate. Tile cock must feel wanted.
On taking the hens away they will be placed in an area as far away from the cocks as possible.
Certainly so the cock cannot see them or get to them and if possible cannot hear them
There two methods (1) Keep in an area wired or grilled floors with V Perches, this helps to stop the hens from pairing. Try to keep two or three hens more than the number of Widowhood cocks so as to give you a backup of spare hens I do try to keep the hen that was paired to the cock but it is not essential as long as the hen is receptive. (2) Individual boxes about the size of a nest box, but so they cannot see each other it may be necessary to drop a light small netting material i.e. window netting over the boxes to stop them from trying to get out but will let in the light
Feeding the Hens
In the first week that they are away you can take the opportunity to Worm, Canker, etc if you feel this is necessary. Depurative or Barley may be used as a feed but do not take the depurative too far into the week. Good Widowhood hens do take a bit of finding and are worth as much as a good cock. always receptive to a cock and will not pair to another hen. 11 hens are kept In separate boxes, them is a good opportunity to stretch their wings and bath, in the first hour of Saturday morning but make sure they do not pair and returning them to their half of the Widowhood box were they await the arrival of their cock.
See the Widowhood system week planner for hens for the feeding and watering plan. It is usefull to print this out and keep in your loft with the other weekly plans
Summary
Nature, as it is, never seems to do what we want. Remember we are cheating on nature in pairing up our pigeons many weeks before nature intended. So if you find, like many of us do, that when you pair up your widowers they do not all lay at the same time, in fact some may not lay until the first birds have hatched their first round do not panic, cheat some more. Those that lay up to 5 days after the first, take one youngster, after two days hatched, from the first and under sit under the late layers. This can be pushed up to 7 days by offering up to 6 day old youngsters in exchange for the late layers eggs.
You may even get later layers to the point mat they are two or more weeks behind time, let them hatch one youngster taking the hen away when the youngster is 16 or so days old letting the cock finish off feeding of the youngster. The youngster may stay with the cock until this presents a problem if you wish to extend the time to match the taking away of the hens. If the worst happens and they lay really late and everything goes out of sequence on the chosen date that the hen should come away, then take everything away, eggs, chicks, youngsters, hens and nest bowls. For we have topped the Federation more than once with a widowhood cock that never succeeded In tearing a youngster in time, but of course it is much better if all goes to plan.
Conclusion
Once your Widowhood Team has 4 – 5 races, they are programmed. Experiment, do not stick to the same old routine. Just show the bowls one week. Just the hens through the bars the next week. Even no hens at all the following week and so on, you will be surprised how different things turn on different pigeons this will enable you to have the full team of Widowhood cocks winning
Selecting cocks for Widowhood
Your cocks will soon tell you who will make a Widowhood cock. Nothing matters to them more than his nest box and he will guard it at all times Cocks that sit anywhere else bar in their nest box or pushed out by others are not going to make the grade.
Racing Yearlings
If the weather is cold and not the best for racing hold your yearlings back. Just carry out the mock racing as I have described earlier You can then drop your yearlings into racing when the weather Improves, anything up to 120 miles. You will not regret it if the weather is wet and cold many of your Club members will have had their losses You will still have a full team If they have the good luck to hold their yearlings; the edge will have been taken off for the later racing For remember your yearlings will be the back bone of your team the next year as a two year old. One last tip which has helped us cope with early breeding is, 2 weeks before pairing up add to your feed cocks included chicken layers pellets. We are convinced that this helps.
Use this table to work out when to pair up your widowhoods.
| | | |
| --- | --- | --- |
| TOTAL DAYS | DAYS BETWEEN | STAGE IN PREPERATION CYCLE |
| 10 Days | 10 DAYS | Hen lays first pair of eggs |
| 29 days | 19 DAYS | From first egg laid to hatching |
| 47 days | 18 DAYS | Hen, roughly, lays 2nd round of eggs |
| 50 days | 3 DAYS | Youngsters at 21 days, no matter the age of baby |
| 60 days | 10 DAYS | Take all hens away |
| 63 days | 3 DAYS | Cocks still sit eggs until they desert them |
| 67 days | 4 DAYS | Sulk period, bowls, etc away. Good clean out |
| 74 days | 7 DAYS | On to the Widowhood system. DON'T show hens. No racing |
| 81 days | 7 DAYS | Stay with system |
| 88 days | 7 DAYS | Mock/preperation race Friday/Saturday |
| 95 days | | Ready for the first race |
Young Bird Racing
Young bird racing is only 1 year, old bird racing is 5+ years so what you do and want to achieve as young birds affects them for the rest of their racing carrier. So the first thing to ask yourself is, are you racing young birds to educate them or racing them to win as many races as possible?
Young birds main motivation is food when racing unless they are bred early enough and pair up during the season. There are techniques out there like the darkness or light systems to speed up the maturing of your babies but we don't recommend them. We have tried they darkness system in the past and it is useful to get the birds to hold onto the moult for racing but pairing up on the 1st December and breeding early young birds achieves this without all the hassle.
So we recommend a basic system for racing young birds. Wean your babies into the racing loft and feed them on a high protein mix. Ideally let them out twice per day but once is fine if that fits into your commitments better. We aren't keen on flagging (chasing birds up to make them fly) young birds as we want to make home their sanctuary and not make them think it is a place to be chased about, so we don't really mind how long they fly for but it does determine how you train. If your young birds are not flying for long periods around the loft or ranging (disappearing off out of sight) then you need to do a bit more when it comes to training. We would start them at 2 miles for a number of times until the come out of the basket and head straight off home with only 1 circle in the sky, then move to 4 miles then 6, 10, 15 then depending on how they are coming we aim for our last distance to be 30 miles so you either keep stepping up in 5 mile increments or just one in between 15 and 30 miles. If they are flying for a nice long time and ranging around the loft then you can start at 5 miles and carry on in 5 mile increments the same as above. Before you move them to a new distance make sure the birds are clearing the sight well before moving on, 1 circle then away, they should get it after 2-3 tosses from the same spot.
We like to give ourselves 4-6 weeks before the first race to do our training. This is partially, for us, finding the time to do it but also these days you can't guarantee that the weather is going to be good enough to train each day leading up to the first race. In this time period it gives you that chance to pick the weather, training days and timing but once you start try to keep them going, don't start then stop then get going again. If you are going to train everyday then train every day, 3 times a week then 3 times a week, or whatever.
There is no need to put your birds onto a racing mix (we used Junior O without Maize) until you start to train. Move them onto their racing mix a week before you start training. See attached for what we put on the food and in the water, this is the same for all our birds stock, old bird race team and young bird race team.
As your birds mature they will require more food but once mature they will level off to around an oz per day per pigeon. Split their food into an am and pm portion somewhere between am 40-50% pm 50-60%. This is where you need to decide whether to race to win or race to educate.
Race to educate.
If you are building an old bird team or that you aren't worried about young bird racing then your young birds only need 4 races up to 100 miles. Choose from them the birds you want to keep for next year, they don't have to be winners just the most consistent birds back to your loft, for example always in the top 10. If you have birds left over that need to prove themselves for whatever reason then push then on and make them earn their perch. If they are there at the end of the year then they have surely earnt a spot in the old bird team. If you are looking at racing the distance 400+ miles then your young birds need to cross the water for just one race, something like a Guernsey or on the French coast will do. If you don't teach them as babies about the water then you are wasting another year as yearlings teaching them the ropes. On short races up to 100 miles feed them as normal all week but on Friday 50% of their daily feed, make sure they have no food available after midday.
Race to win.
Send every pigeon to every race. On short races up to 100 miles don't feed Friday. You can feed 150% of daily feed on Thursday with 50% in the morning and 100% in the evening, make sure there is no food available over night. Races over 100 miles feed as normal all week Friday am feed to increase to 50% of daily food as the races get longer to 200 miles over 200 mile races 50-75% of daily feed on Friday am. All food must be removed by midday of basketing.
All of these racing suggestions are based on Friday basketing for Saturday Am liberation. If there is likely to be a hold over or late liberations then you will need to adjust accordingly, also if it is likely to be a head wind or tail wind you will need to adjust accordingly.
For us young bird racing is just about getting them home and winning is a bonus
Young bird darkness system
We tried the darkness system in the early 1990's and although it succeded in what it was supposed to do, we personally found it to inhibit the performance of the of the birds as yearlings, they didn't seem to race as well as those that didn't go on the darkness system bred the same year.
We suggest to everyone we speak to that you don't need to bother with the darkness system, there is an easier way to keep your young birds in good feather condition for the hole of the young bird race program.
We now pair all our birds up on the 1st of December which means our 1st round is weaned off by the end of January, these birds natrually go through the body moult before the young bird season starts and hold onto the wing flights just as longs as those bird put on the darkness system. I have never had a problem completing a young bird season when I have young birds from our 1st round, those bred after don't hold their moult and hence have to be stopped before the season is over.
In my mind we are all going to breed at some point so why not start that little earlier. There is no extra work involved than breeding later on, we don't use heaters and the birds don't seem to worry about the cold they just sit a bit tighter. So my advice is to forget about the darkness system and pair on the 1st December, get all your breeding out the way before the rtacing season starts so all you have to do is then concerntrate on the race birds and not the stock birds.